OWNER:
Greater Manchester Waste Disposal Authority
ENGINEER: 
Scott Wilson
GENERAL CONTRACTOR: 
Costain
MAIN FIGURES: 
1,804 Controlled Modulus Columns (CMC) , totalling 11,300 linear metres
90,000 cubic metres Concrete C12/15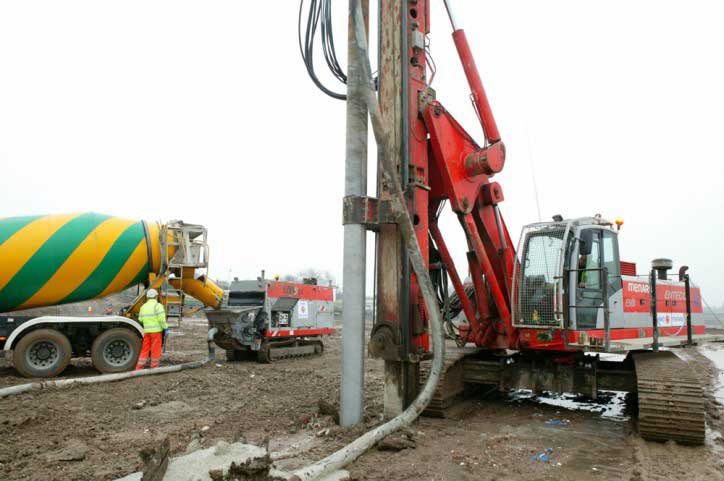 Project Details
The project in Bolton is being undertaken by Costain on behalf of the Greater Manchester Waste and is part of a wider scheme to develop a number of new waste transfer sites around the city. It will comprise an IVC (In Vessel Composting) facility, an amenity waste building and a weighbridge. It will allow the treatment of garden and kitchen waste, as well as being a recycling centre.
Ground Conditions
The soils below the buildings present soft conditions composed of made ground on top of clay, the clay being decomposed in a softer clay on top of a firmer clay where the CMC will be anchored. On the area where the buildings will be built, some earthworks of cut and fill has already been undertaken with a maximum fill of approximately 3.5m and a maximum cut of 3m.
Solution
A direct construction of the structures without soil improvement will lead to unacceptable post construction settlements and deformations. Therefore the aim of the CMC ground improvement solution chosen is to control the settlements due to service loading on the footings and on the slab.
Under the footings the allowable bearing capacity is 100kPa, whereas under the slab it is 50 kPa. The maximum settlement allowed on the project is 30mm under the footings or the slab. The 320mm concrete columns (Concrete type C12/15) are from 2.4 to 12.2m long, with 0.5m anchorage in the firmer clay.
Sustainable Development
This project comprises an In-Vessel Composting (IVC) facility which processes green waste (garden and food waste) into compost in order to reuse it somewhere else (landscaping, farming or horticulture for example).